Cornell BME Summer Immersion Program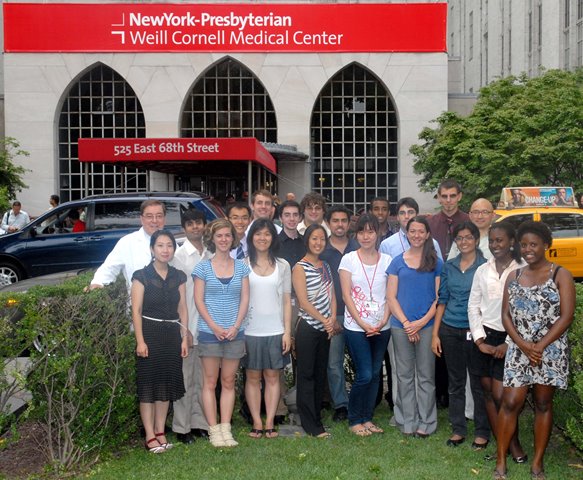 Each summer, PhD students, after their first year of classroom and laboratory study, come to Weill Medical College of Cornell University and its affiliated New York Presbyterian Hospital - Weill Cornell Medical Center in New York City for a clinical immersion experience. This summer immersion program is supported by a training grant from NIBIB (T35EB006732).
The summer immersion course (Directors: Prof. Yi Wang, Drs. William Frayer and Martin Prince) is set up so that each student is paired with a clinician mentor, who serves as a gateway into a specific clinical arena. Staying true to the vision of Cornell University's BME department, which is to develop a quantitative understanding of the human body across scales.The program aims to deepen each student's understanding of the body as an integrated system by further providing a perspective from a clinical standpoint. The participating BME students were treated in a similar way as medical students with the privilege of observing patient consultation, diagnostic procedures, treatment planning, and surgical operation. This allowed them to interact effectively with a team of clinicians, learn about the human body during disease in a systematic manner, understand rationales behind patient diagnosis and therapy, and observe the role of technology from a comprehensive perspective.
The summer immersion course also allows the students to participate in clinical studies under the direction of their mentor clinicians often solving a true clinical problem by applying engineering principles. The students this year have completed vast variety of projects this year, ranging from data processing and analysis of a neurosurgical database to the design of a prototype image processing software for accurate measurement of blood vessel parameters from clinical images. This experience can serve a guiding light for a career in biomedical engineering and an inspiration for developing new medical technology. The program directors are truly grateful to the invaluable efforts from all clinician mentors from various departments including: Medicine/Cardiology, Neurological Surgery, Oncology, Ophthalmology, Pediatrics, Radiology, Surgery, and Urology. The students have quality experience largely due to their substantial contribution to the program.
Throughout the summer immersion students were asked to share their experiences with the group through a blog setup specifically for the immersion. The student blog is a great way for students to document their experience with text and photos and to share it with a larger audience. A student in a prior year program wrote upon conclusion of the program: "I absolutely loved my experience this summer. There was so much I learned about medicine, surgery, health care, how engineers fit into health care, human dynamics, myself, etc., etc, not to mention, being able to enjoy New York City in the summertime. The students will return to Ithaca campus in August. They will summarize their summer immersion experience in term papers and also make an oral presentation to the BME department in the first week of fall semester. We are all looking forward to seeing their final presentations!